Quit giving back!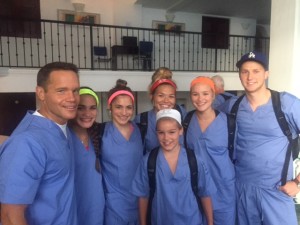 Today is beach day in the Dominican Republic having just finished a week working with a great group of Crown Council members on one of our Smiles for Life dental humanitarian expeditions. This is the ninth year we have worked in conjunction with Esperanza in the Dominican Republic to provide dental care to tens of thousands of Dominicans all over the country. It is just one more example of how Crown Council dental teams are "doing good."
Doing good is vastly different that "giving back." "Giving back" is a term that has crept into our culture with good intent. But upon closer analysis, it does cause one to pause. In order to give something back, you have to have taken it in the first place. We feel a more appropriate term for your charitable and other efforts is "doing good."
Over the years, we have worked to develop a number of opportunities for dental practices to do good along with the good that they do every day by helping patients to a life of better health.
Here are just a few examples:
The Smiles for Life Campaign – Dentistry's largest cause-related campaign having raised over $36 million to date for children's charitable causes and projects. (www.SmilesForLIfe.org)
Eagle University – helping high school and college age students get a 7 year head start on their career and their life. Each year, dental team sponsor deserving students in their community to attend this life-changing program. (EagleUniversity.org)
Miles for Life – Dentist from all over the country participate each year in this 4-day motorcycle – Dental Continuing Education adventure. All proceeds benefit Smiles for Life dental humanitarian efforts. (www.LearningCurves.net)
Smiles for Life Dental Humanitarian Expeditions       – dental teams provide dental humanitarian services in the Dominican Republic, Guatemala, Peru, Nepal and other countries. (https://www.facebook.com/CrownCouncil)
So what is your team doing to "do good?" We invite you to join us in one or more of the many ways in which you can engage to "do good." \
(No giving back here! Just giving and doing good!)